BobCAM for SOLIDWORKS™ – Mill Turn
Program your CNC Mill Turn parts right inside of SOLIDWORKS™!
The new BobCAM for SOLIDWORKS™ Mill Turn software is a complete multitask CAM add-on that combines all of the powerful CNC programming functionality of both mill and lathe into a single streamlined C axis machining solution. BobCAM for SOLIDWORKS™ multitask CNC software delivers high performance features in an easy to use interface designed to meet the complex programming demands of mill turn machining.
See The Brand New Mill Turn CAD-CAM Software In Action
The new BobCAM for SOLIDWORKS™ Mill Turn CAM programming add-on is one of the easiest and most efficient multitask machine programming solutions on the market today…See it for yourself, test it today for FREE!



Find the Right CNC Software Solution
Call Us Today +84-462538584
BobCAM for SOLIDWORKS™ Mill Turn, a Gold Partner CAM solution, can perform everything from simple 2 axis turning to 3 & 4 axis milling and full 4 & 5 axis simultaneous machining right inside of SOLIDWORKS™. It offers a variety of sophisticated and fully associative machining strategies within an intuitively designed wizard driven interface. BobCAM for SOLIDWORKS™ gives you the control needed to easily program non-perpendicular multiaxis tool movements involved in machining intricate features and compound angles. This is particularly useful for programming complex parts such as medical components, complex valves, tool holders, oil drilling tools, and many others.
SOLIDWORKS CAM Software Features for CNC Mill Turn Machines
2 Axis Turning & Live C Axis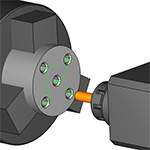 BobCAM C axis milling supports positioning and contouring motion on the OD and part face. Use it with indexing, wrapping, and rotary toolpaths to drill holes, cut pockets, and more on the center line around the part diameter.
Y Axis Milling Support
BobCAM for SOLIDWORKS™ Y axis milling support gives you the ability to perform milling operations both on and off the center line, allowing you to execute 2, 3, and 4 axis milling and cross drilling on the OD and part face.
5 Axis Milling Head Support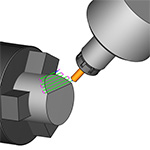 B axis (5 axis) milling head programming features can be used with single spindle and sub-spindle machine setups to give you the flexibility to best target your parts when performing facing, pocketing, and hole drilling operations.
Mill Turn CNC Machine Compatibility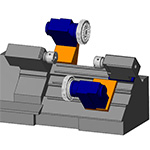 BobCAM for SOLIDWORKS™ supports nearly all mill turn, multitasking, live-C, and lathe equipped with live tooling machine setups. This includes machine setups with multiple spindles, multiple turrets, milling heads, programmable steady rests, programmable tailstocks, part catchers, and machines with B (5 axis), C, and CY axis capabilities.
Full Machine Simulation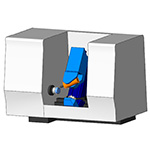 Utilize your machine's kinematics and full machine and tool definitions to test and confirm your mill turn programming before ever cutting a chip in this collision rich machining environment.
MDI Programming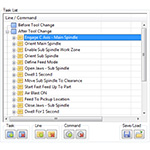 MDI programming within the multitask CNC software allows you to set up the sequence of actions performed before tool changes, after tool changes, or after an operation is completed.