BobCAM for SOLIDWORKS™ -Laser, Plasma, & WaterJet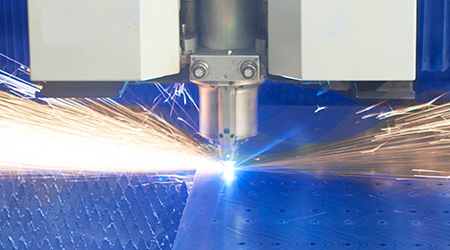 High Performance CAM Software for CNC Laser, Plasma, & WaterJet Machines
BobCAM for SOLIDWORKS™ Gold Partner CAM solution for laser, plasma, and waterjet CNC machines offers powerful 2-5 axis cutting capabilities right inside of SOLIDWORKS™. Seamlessly transition from creating your part model to assigning advanced toolpath strategies, simulating jobs, and generating g-code programming.
See Powerful CAM Software for Laser, Plasma, & WaterJet In Action
BobCAM for CNC laser, plasma, and waterjet machines lets you program and cut your parts faster than ever…See for yourself, try it for FREE today!



Find the Right CNC Software Solution
Call Us Today +84-462538584
BobCAM for SOLIDWORKS™ software is a powerful CAM solution for CNC laser, plasma, and waterjet machines. It delivers the precision you need to machine everything from simple 2 axis jobs to complex multiaxis parts. You control a full range of sophisticated and fully associative machining strategies using an intuitive wizard driven interface that makes toolpath programming faster and easier than ever before. You can even test and confirm your CAM programming in the BobCAM for SOLIDWORKS™ simulation to give you the peace of mind in your programming before ever cutting a chip.
Features of BobCAM for SOLIDWORKS™ for CNC Laser, Plasma, & WaterJet
Streamline Productivity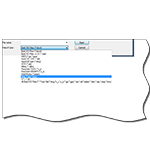 BobCAM works right inside of SOLIDWORKS™ to give you a seamless transition from part designing to toolpath programming and g-code output. It's compatible with a large selection of file formats to give you the flexibility needed when working with client files. (DXF, DWG, IGES, STEP, SAT, 3DM, X_T, X_B, SLDPRT, STL)
Create & Save Cutting Conditions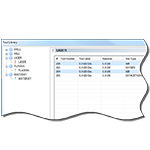 Using the tool library in the new BobCAM, you can create and save tooling information to apply on jobs with similar cutting conditions. Customizable conditions by machine: Plasma (gas type, gas on/off, cut on/off, cutting feed rate, power setting, torch height control); Laser (shutter open/closed, pulse frequency, power setting); Waterjet (cutter on/off, abrasive on/off, vacuum assist on/off, cutting feed rate, pressure type)
Pipe Cutting, Notching, Coping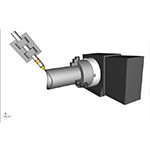 BobCAM supports 4 & 5 axis shape cutting machines and provides solid simulation for custom machine configurations to let you to visually inspect and confirm your programming.
Toolpath Patterns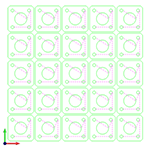 Easily copy part profiles using the BobCAM toolpath patterns. This feature allows you to program single or multiple features and quickly pattern them out. Patterns inside of patterns are supported, which allows for fast programming of multiple parts with more than one feature.